CreativeHub 1352 presents the InSitu Multi Arts Festival's launch of "The Lost Museum," a year-long celebration of art and culture.
Are the rumours true? Has The Lost Museum actually landed at the Small Arms Inspection Building? Join us online for a special launch event on the evening of March 26 to find out! We will share highlights and exciting news from the site, with special guest appearances throughout the evening.
Prior to the Launch, Stonehooker Brewery will be hosting a virtual Beer Tasting and "Tap Room" Chats.
Registration will include access to the Stonehooker Brewery Tastings, "Tap Room" Chats, and Launch Event.
Tickets are free, however please see ticket options to purchase a CreativeHub 1352 membership or make a donation to support future community-based programming.
Event Schedule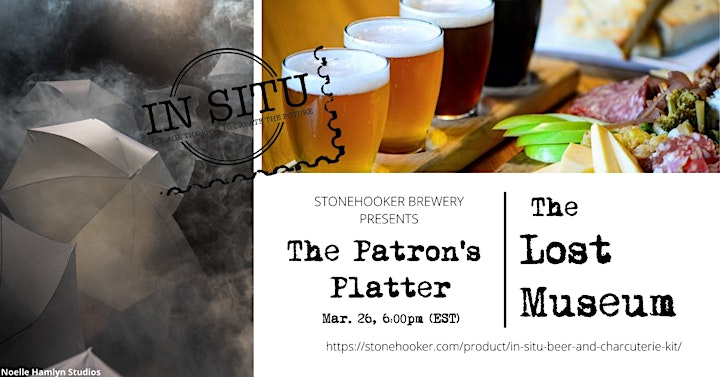 Pre-Launch Tastings and "Tap Room" Chats featuring Stonehooker Brewery
Friday March 26th @ 6:00pm – 7:30pm (EST)
Stonehooker Brewery in partnership with CreativeHub 1352 presents an evening of great food, special craft beer and the Launch of The Lost Museum.
Stonehooker Brewing Company and Chef Callaghan and Cheese Master Gurth Pretty present "The Patron's Platter", a charcuterie sampling that Brewmaster Adam Cherry will pair with 4 special small batch beer selections from our local Mississauga craft brewery. Join us along the winding path of beer as Stonehooker guides you along your approach to the Lost Museum Launch with a specially chosen assortment of beer, charcuterie, and cheese, featuring live commentary from the curators, Adam, Gurth and Chef Cal. Featured will be some delicious surprises including one of Saputo's most interesting cheeses, plus Chef Cal's favourite meats, candied, hot and sweet. Enjoy these with a tasty assortment of Cal's accoutrements and our own house made Broad Reach Spiked Pineapple Hot Sauce, for a bit of heat.
Included are 4 delicious craft beer for your journey, with more available when you order your package here: Stonehooker.com/product/in-situ-beer-and-charcuterie-kit
Please place your order by March 22.
Must be 19+ years of age to order the Patron's Platter Beer and Charcuterie Kit.
Launch Event – The Lost Museum
Friday March 26th @ 7:30pm – 8:00pm (EST)
Join us in the CreativeHub 1352 YouTube studio for a real-time showcase of what's happening at the Small Arms Inspection Building and to find out the truth behind The Lost Museum – What is it? Where did it come from? Is it real?
With special guest appearances, we will work to uncover the truth behind mysterious happenings at the site. By the end of the night, our questions will be answered and we will find out if a portal truly opened at the Small Arms Inspection Building, allowing The Lost Museum to appear. Who knows what might get discovered, lost, forgotten, or remembered?
The Lost Museum Digital Site
In Situ 2021: The Lost Museum is an engaging, interactive virtual platform celebrating art, performance through the themes of "Lost," introducing viewers to unknown works inhabiting the Small Arms Inspection Building (SAIB). The Lost Museum is filled with stories, short films, interactive gaming, digital features, original artwork, curated collections, and special performances by Mississauga's creative communities.
The Lost Museum features 50+ artists, performers, cultural producers, builders, filmmakers, and designers from Mississauga and GTA's creative communities, along with the contributions of 250+ local students.
Stay tuned for workshops, artist talks, and events in the coming weeks and throughout 2021. Learn more on our event website: www.creativehub1352.ca/insitumultiartsfestival